Full Text
To the Editor:
A 30-year-old man with no significant history presented in the emergency department in 2007 with loss of vision. A campimetric defect indicative of optic neuritis was confirmed. In view of these findings, corticosteroid treatment (1g/day for 5 days) was administered, and magnetic resonance imaging (MRI) of the head was performed. No radiological studies of the chest were performed during this episode. The head MRI (Fig. 1) showed focal lesions in the white matter, indicative of demyelinating disease. Since the patient did not meet all the criteria for multiple sclerosis (MS) and had presented no new episodes of neurological symptoms during follow-up, no specific MS treatment was initiated and the patient continued follow-up on an outpatient basis.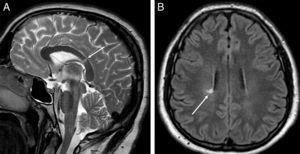 Fig. 1.
Magnetic resonance imaging (MRI) of the head in T2 (A) showing a hyperintense focal lesion in the splenium of the corpus callosum (white arrow). Axial FLAIR image (B) showing a hyperintense focal lesion in the periventricular white matter (white arrow). Both lesions are radiologically non-specific, but in the right clinical context can be indicative of demyelinating disease.
(0.14MB).
Several follow-up head MRIs were performed, showing mild disease progression with no clinical repercussions, and the presumed diagnosis of MS was maintained. Six years after this episode, the patient presented with cough and dyspnea. A chest X-ray (Fig. 2A) showed widened mediastinum, enlarged pulmonary hila, and interstitial involvement. In view of the radiological suspicion of sarcoidosis, a chest CT was performed. Multiple lymphadenopathies in the mediastinum and both pulmonary hila and severe interstitial involvement were confirmed on CT (Fig. 2B). Presumed radiological diagnosis was sarcoidosis (stage II), confirmed on histology of a transbronchial biopsy specimen. After treatment began with systemic and inhaled corticosteroids, the patient's clinical and radiological picture improved (Fig. 2D). A repeat CT of the head showed stabilization of the lesions with respect to the previous examination.
Fig. 2.
Chest X-ray (A) showing a widened mediastinum, enlarged pulmonary hila and interstitial involvement. Chest computed tomography confirming presence of large mediastinal lymphadenopathies, and bilateral hilar (B, coronal reconstruction with intravenous contrast medium) and pulmonary parenchymal (C, axial image in lung window) involvement. Chest X-ray (D) obtained 6 months after starting corticosteroid treatment showing normalization of findings.
(0.22MB).
Sarcoidosis is a multisystemic disease of unknown origin that typically affects the lung and intrathoracic lymph nodes, although it can affect the eye, liver, heart, spleen, saliva glands, bone and central nervous system.1,2 Neurosarcoidosis is uncommon (5% of all patients) and is usually diagnosed by a process of elimination, given the difficulty of obtaining biological samples.3 Nevertheless, awareness of this entity may facilitate prompt diagnosis and prevent the development of neurological deficits. Moreover, mistreatment of neurosarcoidosis with interferon (as used in some MS patients) may lead to worsening of the disease.4,5 The unusual feature of our case is that the patient had been initially diagnosed with probable MS, but 6 years later, in the light of radiological findings in the chest, sarcoidosis was suggested. In view of the lack of clinical activity of the presumed demyelinating disease, clinicians from the Pulmonology, Neurology and Radiology departments agreed to change the initial clinical suspicion of MS to sarcoidosis with neurological involvement. This case demonstrates the complexity of diagnosing this disease in patients whose initial clinical symptoms are neurological, and the importance of including sarcoidosis in the differential diagnosis of demyelinating diseases of the central nervous system.
Please cite this article as: Picón Serrano C, Escoda Menéndez S, Gorospe Sarasúa L. Sarcoidosis con afectación neurológica simulando una esclerosis múltiple: importancia de la imagen torácica. Arch Bronconeumol. 2015;51:307-308.