Full Text
To the Editor,
We report the case of a 78-year-old woman, no toxic habits, with a history of arterial hypertension, diabetes mellitus, dyslipidemia, and atrial fibrillation, who consulted due to a 1-month history of left chest pain, refractory to her usual analgesic treatment. Physical examination showed hypoventilation in the lower half of the left hemithorax. Moderate left pleural effusion was seen on the chest radiograph, and blood tests revealed elevated LDH and D-dimer. A diagnostic thoracocentesis was performed, obtaining pleural fluid consistent with predominantly mononuclear exudate with high LDH and normal ADA levels. Pleural fluid cytology was negative.
A chest-abdominal computed tomography (CT) was performed, which showed a soft tissue mass in the left posterior pleura, measuring 7.4×8.2cm, extending along the chest wall and muscles of the left posterior abdominal wall, infiltrating all planes and the subcutaneous cell tissue, accompanied by significant ipsilateral pleural effusion. Significant cavoportal and retroperitoneal lymphadenopathies were observed in the abdomen. Given these findings, a CT-guided biopsy was performed of the lesion. Results were consistent with diffuse large B-cell non-Hodgkin's lymphoma, with a proliferation index of 70%, negative for EBV or c-myc. Bone marrow biopsy was normocellular, and HIV, HBV, HCV, and CMV serologies were negative.
Finally, a positron emission tomography was performed (Fig. 1), showing an extensive hypermetabolic focus, corresponding to a left pleural mass with an SUV(max) of 10.3, consistent with primary neoplastic lesion. Left axillary, abdominal (in the hepatic hilum), retropancreatic, and panaortic lymphadenopathies, suggestive of tumor infiltration, were also observed.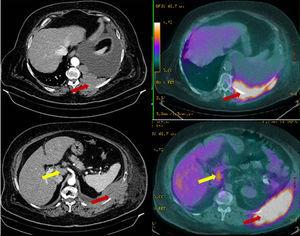 Fig. 1.
Positron emission tomography: hypermetabolic left pleural mass, with SUV(max) 10.3 consistent with primary neoplastic lesion (black arrows) and abdominal lymphadenopathies in the hepatic hilum, and retropancreatic and para-aortic lymphadenopathies, suggestive of tumor infiltration (white arrows).
(0.29MB).
Diffuse large B-cell lymphoma, stage IV, AX, IPI 4, was diagnosed, and chemotherapy was started with rituximab, cyclophosphamide, vincristine, and prednisone (R-CVP), after tumor lysis prevention. In the follow-up CT, after 4 cycles of chemotherapy, the tumor had significantly reduced. A discrete increase in residual soft muscle planes and mild pleural effusion remained, but no pathologically enlarged lymph nodes or pleural thickening was observed.
Primary pleural lymphoma (PPL) is an uncommon entity, accounting for approximately 7% of lymphomas. It usually affects patients with HIV infection or chronic pyothorax. PPL in immunocompetent patients with no history of these conditions is exceptional.1 Principal clinical symptoms are chest pain and dyspnea, if pleural effusion is significant. Radiological signs include diffuse nodular pleural thickening, accompanied by pleural mass. Sometimes isolated pleural effusion may appear before the development of the pleural mass.2 For diagnosis, pleural biopsy should be obtained under ultrasound or CT-guidance or by video-assisted thoracoscopy.2 With regard to histology, any type of lymphoma may be involved, but the most commonly described type is large B-cell lymphoma, followed by follicular lymphoma, with rates of 60% and 20%, respectively.3 Treatment requires systemic chemotherapy based on combinations of cyclophosphamide, doxorubicin, vincristine, and prednisone.
References
[1]
H. Ahmad, J. Pawade, S. Falk, J.A. Morgan, L. Balacumaraswami.
Case report: primary pleural lymphomas.
Thorax, 58 (2003), pp. 908-909
[2]
Y. Kim, M. Lee, Y.J. Ryu, M.S. Cho.
The pleural sandwich sign in two cases of primary pleural lymphoma.
Korean J Radiol, 16 (2015), pp. 213-216
[3]
X. Ru, M. Ge, L. Li, Y. Lin, L. Liu.
Primary pleural lymphoma: a rare case and a synopsis of the literature.
J Thorac Dis, 5 (2013), pp. E121-E123
Please cite this article as: Vera Sanchez MC, Fernández Aguirre MC, Hidalgo Sanjuan MV. Linfoma pulmonar: a propósito de un caso. Arch Bronconeumol. 2017;53:405–406.