Full Text
Presentamos el caso de una mujer de 78 años, sin hábitos tóxicos, con antecedentes de hipertensión arterial, diabetes mellitus, dislipemia y fibrilación auricular, que consultaba por dolor torácico izquierdo, de un mes de evolución, refractario al tratamiento analgésico habitual. En la exploración física presentaba una hipoventilación en la mitad inferior del hemitórax izquierdo. En la radiografía de tórax se visualizaba un moderado derrame pleural izquierdo y, en la analítica sanguínea, destacaban valores elevados de LDH y dímero D. Se practicó una toracocentesis diagnóstica, extrayéndose líquido pleural compatible con exudado de predominio mononuclear con LDH alta y ADA normal. La citología del líquido pleural fue negativa.
Para continuar el estudio se realizó una TC toraco-abdominal, apreciándose una masa de partes blandas a nivel pleural posterior y en pleura diafragmática izquierda de 7,4×8,2cm, que se continuaba por la pared costal y por los planos musculares de la pared posterior abdominal izquierda, con infiltración de todos los planos y del tejido celular subcutáneo, acompañándose de un derrame pleural ipsilateral significativo. A nivel abdominal destacaban adenopatías significativas cavo-portales y retroperitoneales. Dado estos hallazgos se realizó una biopsia de la lesión guiada por TC, con resultado compatible con linfoma no-Hodgkin B difuso de células grandes, con nivel de proliferación del 70%, sin positividad para VEB ni para c-myc. La biopsia de médula ósea fue normocelular y las serologías para VIH, VHB, VHC y CMV resultaron negativas.
Por último, se realizó una tomografía por emisión de positrones (fig. 1), visualizándose un extenso foco hipermetabólico, correspondiente a la masa pleural izquierda, con un SUVmáx de 10,3, compatible con lesión neoplásica primaria. Además, se observaban adenopatías axilares izquierdas y abdominales en hilio hepático, retropancreáticas y paraaórticas sugestivas de infiltración tumoral.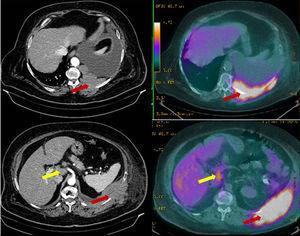 Figura 1.
Tomografía por emisión de positrones: masa pleural izquierda hipermetabólica, con SUVmáx 10,3 compatible con lesión neoplásica primaria (flechas negras) y adenopatías abdominales en hilo hepático, retropancreáticas y paraaórticas sugestivas de infiltración tumoral (flechas blancas).
(0.29MB).
Tras el diagnóstico de linfoma B difuso de células grandes, estadio IV AX, IPI 4, se inició tratamiento quimioterápico con rituximab, ciclofosfamida, vincristina y prednisona (R-CVP), previa prevención de lisis tumoral. En la TC de control, tras 4 ciclos de quimioterapia, se aprecia una reducción significativa de la lesión, quedando un discreto aumento de los planos blandos musculares residual, y un discreto derrame pleural, sin observarse adenopatías patológicas ni engrosamientos pleurales.
El linfoma pleural primario (LPP) es una entidad poco frecuente (aproximadamente el 7% de los linfomas). Usualmente afecta a pacientes con VIH o piotórax crónico. El LPP en inmunocompetentes, sin estos antecedentes, es excepcional1. La clínica predominante es dolor torácico y disnea, si se acompaña de derrame pleural significativo. Radiológicamente se presenta como un engrosamiento pleural nodular difuso, acompañado de masa pleural. En otras ocasiones, puede aparecer un derrame pleural aislado previo al desarrollo de la masa pleural2. Para el diagnóstico se recomienda realizar una biopsia pleural guiada por ecografía o TC, o mediante videotoracoscopia2. En cuanto a la histología, cualquier tipo de linfoma puede estar implicado. El que se ha descrito con mayor frecuencia es el linfoma de células B de células grandes, seguido del linfoma folicular, con tasas del 60 y 20%, respectivamente3. El tratamiento requiere quimioterapia sistémica basada en combinaciones que incluyen ciclofosfamida, doxorrubicina, vincristina y prednisona.
Bibliografía
[1]
H. Ahmad, J. Pawade, S. Falk, J.A. Morgan, L. Balacumaraswami.
Case report: Primary pleural lymphomas.
Thorax, 58 (2003), pp. 908-909
[2]
Y. Kim, M. Lee, Y.J. Ryu, M.S. Cho.
The pleural sandwich sign in two cases of primary pleural lymphoma.
Korean J Radiol, 16 (2015), pp. 213-216
[3]
X. Ru, M. Ge, L. Li, Y. Lin, L. Liu.
Primary pleural lymphoma: A rare case and a synopsis of the literature.
J Thorac Dis, 5 (2013), pp. E121-E123