Full Text
Dear Editor,
We report the case of an asymptomatic 72-year-old woman with no significant clinical history, in whom a lung mass with smooth outlines measuring 5.1×4cm was observed in the right lower lobe during a routine CT. Micronodules were also found in the right upper lobe and left hemithorax (Fig. 1). PET showed pathological tracer uptake in the right lower lobe (SUV maximum: 34.36), suggestive of malignancy. Functional tests showed moderate restriction. After 2 nondiagnostic cytology specimens were obtained, a diagnostic right lower lobectomy was performed.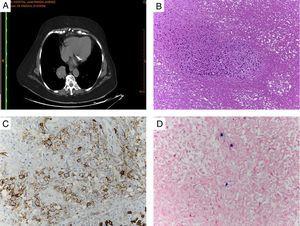 Fig. 1.
Lymphomatoid granulomatosis. (A) Right single pulmonary nodule and micronodules in the right upper lobe and left hemithorax (chest CT). (B) Large mononuclear cells with the typical angiocentric pattern and abundant tumor necrosis (H&E, ×10). (C) Large B cell lymphocytes surrounding the blood vessels (CD20, ×20). (D) Large B cells positive for in situ hybridization of EBV (EBER, ×40).
(0.59MB).
The macroscopic examination revealed a firm, nodular, whitish mass measuring 5.2cm in its longest diameter. Microscopic study found a multinodular tumor with areas of necrosis, consisting of a heterogeneous lymphoid population of atypical large B cells (CD20 positive), with more than 20 cells per high-power field, with an accompanying background of small T lymphocytes (CD3 positive). The neoplasm presented an angiocentric, angiodestructive pattern. In situ hybridization for the Epstein–Barr virus (EBV) was positive (Fig. 1). These histological and immunohistochemical findings supported the diagnosis of lymphomatoid granulomatosis grade 3. The patient received an initial cycle of immunochemotherapy, but died 4 months after diagnosis.
Lymphomatoid granulomatosis, first described in 1972 by Liebow et al.1 is a very rare type of extranodal lymphoma with a highly characteristic angiocentric, angiodestructive pattern. It typically affects more men than women (2:1), particularly in the 3rd–5th decade of life, and is more common in Western countries.2
Clinically, it normally involves both lungs. Cough, dyspnea, and chest pain are the most typical symptoms, and may be accompanied by fever, weight loss, etc. Renal and skin involvement may occur, and central nervous system involvement, seen in up to 53% of cases, is noteworthy.3
The most characteristic radiological sign is pulmonary nodules that affect the middle and lower lobes. Other signs include central necrosis and/or cavitation, air bronchogram, and a ground glass appearance. It is occasionally diagnosed incidentally, so this lymphoproliferative process should always be borne in mind during the diagnostic process.4
Histologically, this is a diffuse large B cell lymphoma associated with EBV, which shows predilection for the blood vessels (angiocentricity). It is included in the new 2016 WHO lymphoma classification under the category of diffuse large B cell lymphoma (DLBCL) not otherwise specified (NOS) associated with EBV.5
In high-grade cases, it is considered an aggressive high-grade lymphoma, so patients require immediate, intensive treatment with immunochemotherapy regimens that include rituximab. In the most aggressive cases, mean survival is approximately 18 months.
In summary, our patient presented lymphomatoid granulomatosis, a very unusual type of extranodal lymphoma, that mainly affects the lung, and which presents very distinctive pathological characteristics. Lymphomatoid granulomatosis must be taken into consideration in the differential diagnosis of other processes with similar radiological features.
Please cite this article as: Gutiérrez-Domingo Á, Gutiérrez-Domingo I, Gallardo-Rodríguez KM. Granulomatosis linfomatoide: una neoplasia infrecuente de mal pronóstico. Arch Bronconeumol. 2018;54:108–109.