Full Text
A 79-year-old man with chronic obstructive pulmonary disease underwent laparoscopic nephrectomy for the treatment of clear cell renal cell carcinoma (T1bN0M0). Eight months later, follow-up CT revealed bronchial cast shadows with high-attenuation lesions in the right lower lobe (Fig. 1A–C). We suspected endobronchial metastasis from renal cell carcinoma and performed repeated fiberoptic bronchoscopy to collect biopsy specimens. Although there were no malignant cells, mucus plugs showing Charcot–Leyden crystals and Aspergillus were found. Furthermore, total and Aspergillus-specific IgE levels were elevated. Aspergillus fumigatus skin test and precipitins were also positive. The patient denied episodic cough and wheeze, and lung function tests revealed irreversible airflow limitation after bronchodilator treatment. Allergic bronchopulmonary aspergillosis (ABPA) without clinical asthma was thus diagnosed. After steroid therapy, mucoid impaction improved, although bronchiectasis persisted (Fig. 1D).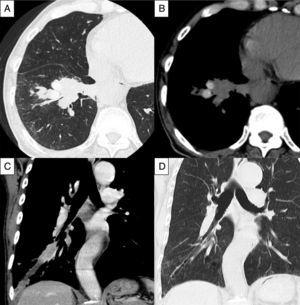 Fig. 1.
High-resolution CT of the chest showing mucus plugging of dilated bronchi (A, lung window) and high-attenuation lesions (B, mediastinal window) in the right lower lobe. Coronal view CT with intravenous contrast revealed partially high-attenuation mucus plugs (C). Follow-up CT showed improvement of mucus plugging and presence of bronchiectasis (D).
(0.17MB).
The differential diagnosis of mucoid impaction includes endobronchial malignancy, foreign body aspiration, bronchial atresia, and bronchiectasis due to any cause. It is generally hypodense, but, in ABPA, mucus can be hyperdense on CT.1 High-attenuation mucus, which is a term applied to mucus plugs that are visually denser than paraspinal skeletal muscle, is a characteristic finding in ABPA and is considered diagnostically significant.2
In our case, in which the patient had no clinical manifestation of asthma, the presence of high-attenuation mucus was particularly useful in differential diagnosis.
Conflict of Interest
The authors declare no conflict of interest associated with this manuscript.
References
[1]
R. Goyal, C.S. White, P.A. Templeton, E.J. Britt, L.J. Rubin.
High attenuation mucous plugs in allergic bronchopulmonary aspergillosis: CT appearance.
J Comput Assist Tomogr, 16 (1992), pp. 649-650
[2]
R. Agarwal, D. Maskey, A.N. Aggarwal, B. Saikia, M. Garg, D. Gupta, et al.
Diagnostic performance of various tests and criteria employed in allergic bronchopulmonary aspergillosis: a latent class analysis.
PLOS ONE, 8 (2013), pp. e61105
Please cite this article as: Kouzaki Y, Kanoh S, Kawana A. Mucus de alta atenuación en aspergilosis broncopulmonar alérgica. Arch Bronconeumol. 2016;52:46–47.