Full Text
Describimos el caso de una paciente mujer de 49 años de edad, sin hábitos tóxicos, a la que se realiza hace 15 años una embolización de varices pélvicas por síndrome de congestión pélvica. Es remitida por hallazgo radiológico incidental de una imagen nodular de densidad metal en hemitórax izquierdo. La paciente niega sintomatología respiratoria alguna. Se realiza broncoscopia flexible que descarta la presencia de cuerpo extraño a nivel endobronquial; la tomografía computarizada (TC) de tórax y abdomen muestra ocupación de una rama segmentaria de la arteria pulmonar del lóbulo inferior izquierdo (LII) por un cuerpo extraño (fig. 1) compatible con coil. Debido a que la paciente se encontraba asintomática se decidió actitud conservadora y seguimiento clínico-radiológico.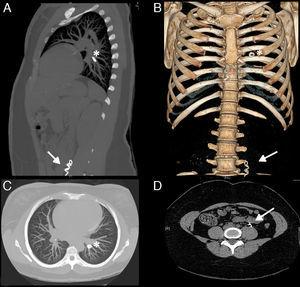 Figura 1.
TC toraco-abdominal en cortes sagital (A), coronal (B) y axiales (C y D). Se observa cuerpo extraño metálico de morfología en espiral en el interior de la vena ovárica izquierda (flecha) y material de embolización de forma redondeada en una arteria pulmonar segmentaria del LII (asterisco).
(0.16MB).
La embolización de varices ováricas es un procedimiento utilizado para el tratamiento endovascular del síndrome de congestión pélvica; a pesar de ser considerado un tratamiento seguro y eficaz, se han descrito en la literatura casos de embolización de material metálico a la circulación pulmonar1. Así mismo en varones se pueden presentar casos de migración de fragmentos del coil tras embolización de las venas dorsal del pene o de la vena espermática para el tratamiento de la disfunción eréctil y del varicocele2.
Bibliografía
[1]
L.A. Ratnam, P. Marsh, J.M. Holdstock, C.S. Harrison, F.F. Hussain, M.S. Whiteley, et al.
Pelvic vein embolisation in the management of varicose veins.
Cardiovasc Intervent Radiol, 31 (2008), pp. 1159-1164