Full Text
Our case was a 43-year-old man with a history of suspected aspiration of a soda can pull tab 20 years previously, at which time he presented in the emergency room, but no radiological changes were observed (Fig. 1).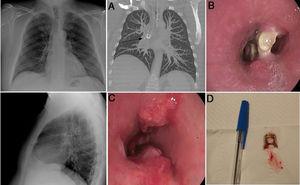 Figure 1.
Posteroanterior and lateral chest X-ray with no changes. A) CT reconstruction of the chest showing the pull tab in the intermediate bronchus (arrow) in a coronal slice. B) Proximal tip of the pull tab embedded in the distal third of the intermediate bronchus. C) Endoscopic view after removal of the pull tab, showing persistent proximal and distal granulation tissue forming a septum. D) Pull tab.
(0.18MB).
Ten years later, he was evaluated in the respiratory medicine clinic for cough and wheezing, and was diagnosed with bronchial asthma. No changes were observed on plain X-rays obtained during follow-up. In the previous year, he developed intermittent bloody expectoration, so a chest computed tomography (CT) scan was performed revealing a foreign body of calcium density in the intermediate bronchus2 (Fig. 1A).
A diagnostic bronchoscopy was performed in his reference hospital (Fig. 1B), revealing the pull tab in the distal third of the intermediate bronchus surrounded by granulation tissue. The patient was referred to our hospital where therapeutic bronchoscopy was performed under intubation with an orotracheal tube using a flexible bronchoscope1 (Fig. 1C). Cryotherapy (ERBE, 2.4 mm probe) was initially applied to the granulation tissue in the areas where the pull tab was anchored, which then, using toothed forceps (2.8 mm), could be removed en bloque along with the orotracheal tube. Oral corticosteroid treatment was added in tapering doses until the following check-up 3 weeks later, at which time argon plasma electrocautery (forced APC, 25 W at 0.3 l/min) was applied to the existing granulation tissue (Fig. 1C) for a total of 4 sessions, resulting in complete disappearance of granulation tissue and recovery of bronchial lumen patency.
References
[1]
M. Blanco Ramos, M. Botana-Rial, E. García-Fontán, A. Fernández-Villar, M. Gallas Torreira.
Update in the extraction of airway foreign bodies in adults.
J Thorac Dis, 8 (2016), pp. 3452-3456
[2]
I.S. Sehgal, S. Dhooria, B. Ram, N. Singh, A.N. Aggarwal, D. Gupta, et al.
Foreign body in the adult population: experience of 25,998 bronchoscopies and systematic review of the literature.
Respir Care, 60 (2015), pp. 1438-1444
Please cite this article as: Forcén E, Bernabé MJ, Larrosa-Barrero R. Una radiografía de tórax normal no excluye la versión del paciente. Arch Bronconeumol. 2021;57:649.