Article information
Abstract
Full Text
Bibliography
Download PDF
Statistics
Tables (3)
Fig. 1. Diagrama diagnóstico inicial para la tromboembolia pulmonar (TEP) elaborado por el Grupo de Trabajo de la Enfermedad Tromboembólica del Hospital de La Princesa. Los valores de dímero-D se analizaron para su posterior validación. MMII: miembros inferiores; TC: tomografía computarizada.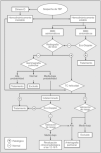 Objetivo: Determinar la sensibilidad y el valor predictivo negativo del dímero-D, por enzimoinmunoanálisis (ELISA) rápido, en la embolia pulmonar. Pacientes y métodos: Estudio prospectivo de pacientes atendidos consecutivamente por sospecha clínica de embolia en el Servicio de Urgencias del Hospital de La Princesa de Madrid. El diagnóstico de tromboembolia se basó en el algoritmo establecido en el hospital, y se determinó el dímero-D por ELISA (VIDAS) en cada paciente con sospecha de embolia pulmonar. A los pacientes con resultado negativo para tromboembolia, establecido por una prueba no considerada de referencia, se les realizó seguimiento clínico a los 3 meses. Resultados: De 132 pacientes con sospecha clínica, 28 (21,2%) fueron positivos y 104 (78,7%) negativos para embolia. El dímero-D fue < a 0,5 μg/ml en 31 pacientes, de los que 30 no tuvieron tromboembolia pulmonar y 1 sí la tuvo. De los 101 pacientes con dímero-D > 0,5 μg/ml, en 74 no se produjo tromboembolia y en 27 sí. Si se considera como punto de corte 1 μg/ml, hubo 66 pacientes con valores inferiores, de los que 3 presentaron embolia pulmonar. Otros 66 pacientes mostraron un dímero-D ≥ 1 μg/ml; de ellos, 25 tuvieron un diagnóstico positivo para embolia y 41 negativo. La sensibilidad y el valor predictivo negativo para 0,5 μg/ml fue de 96,4 (intervalo de confianza [IC] del 95%, 79,8-99,9) y 96,8 (IC del 95%, 81,5-98,8), respectivamente; para 1 μg/ml fue de 89,2 (IC del 95%, 70,6-97,2) y 95,45 (IC del 95%, 86,4-98,8), respectivamente. Conclusiones: Los valores de dímero-D plasmático, determinados por la técnica de ELISA rápido (VIDAS), < 0,5 μg/ml permiten excluir con alto valor predictivo negativo una tromboembolia pulmonar en un servicio de urgencias.
Palabras clave:
Embolia pulmonar
Enfermedad tromboembólica
Dímero-D
Objective: To determine the sensitivity and negative predictive value of D-dimer levels measured by fast enzyme-linked immunoabsorbent assay (ELISA) in pulmonary embolism. Patients and Methods: Prospective study of consecutive patients with suspicion of pulmonary embolism attended in the Emergency Room of the Hospital de La Princesa in Madrid, Spain. Thromboembolism was diagnosed with an algorithm established in the hospital, and D-dimer levels were determined by fast ELISA (VIDAS D-dimer Assay) in each patient suspected of pulmonary embolism. Patients with negative findings from a test not considered a reference method for thromboembolism were followed for 3 months. Results: Of 132 patients with clinical suspicion, 28 (21.2%) were positive and 104 (78.7%) were negative for embolism. D-dimer levels were below 0.5 µg/mL in 31 patients, 30 of whom did not have pulmonary thromboembolism whereas 1 did. D-dimer levels were abowe 0..5 µg/mL in 101 patients; thromboembolism did not occur in 74 of these but was reported in the remaining 27. For a value of 1 µg/mL, 66 patients had values below the cut off, 3 of whom presented pulmonary embolism. The remaining 66 patients had D-dimer levels above or equal to 1 µg/mL; 25 of them had a positive diagnosis for embolism and 41 had a negative diagnosis. Sensitivity and negative predictive values were 96.4% (95% confidence interval [CI], 79.8%-99.9%) and 96.8% (95% CI, 81.5%-98.8%), respectively, at a cut off of 0.5 µg/mL; and 89.2% (95% CI, 70.6%-97.2%) and 95.45% (95% CI, 86.4%-98.8%), respectively, at a cut off of 1 µg/mL. Conclusions: In an emergency room, thromboembolism can be excluded if plasma levels of D-dimer measured by fast ELISA are below 0.5 µg/mL because of the high negative predictive value at this cut off.
Keywords:
Pulmonary embolism
Thromboembolic disease
D-dimer
Article
These are the options to access the full texts of the publication Archivos de Bronconeumología