Full Text
To the Editor:
Primary hyperparathyroidism (PHPT) caused by ectopic parathyroid adenomas in the mediastinum is uncommon. The main indications for resection are glandular hyperfunction, complications from hypercalcemia, and young age of the patient.
A 20-year-old man was admitted due to several sudden pathologic fractures. Permanent tachycardia was found on clinical examination and standard X-ray revealed multiple fractures at varying stages, clear evidence of osteolysis and multiple bone tumors. Preoperative biochemistry results showed very high blood calcium: 170mg/l (90–100mg/l) and PTHi: 4000pg/ml (15–65pg/ml).
Technetium (99mTc) sestamibi (MIBI) scintigraphy showed extensive uptake in the upper mediastinum (Fig. 1A). A computed tomography (CT) was performed for more accurate localization of the mass, which was determined to be in the area of the thymus in close contact with the aortic arch (Fig. 1B). Diagnosis was PHPT caused by a hyperfunctioning ectopic parathyroid mass in the mediastinum.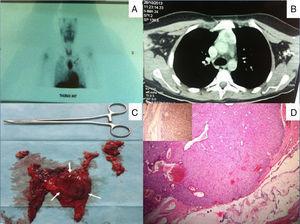 Fig. 1.
(A) Preoperative 99mTc-MIBI scan showing a large area of increased uptake in the mediastinum. (B) Chest computed tomography showing a large mass in the area of the anterior thymus. (C) Postoperative image after complete thymectomy showing the parathyroid adenoma occupying almost all the left thymus lobe. (D) Postoperative histopathology examination showing parathyroid adenoma surrounded by normal thymus tissue. Immunostaining positive for parathyroid hormone (inset).
(0.25MB).
Median sternotomy revealed a tumor in the left lobe of the thymus that could be fully resected (Fig. 1C). To confirm the success of the resection, calcium and PTHi serum levels were monitored before and after surgery: levels fell gradually to 77mg/l and 7.6pg/ml, respectively, 3 days after the intervention. Low calcium blood levels, causing tachycardia, were detected in the postoperative period, and managed with intravenous administration of calcium.
Pathology examination determined that the lesion measured 5.5×4×4cm and the histological diagnosis was parathyroid adenoma (Fig. 1D).
Six months after surgery, the patient's serum calcium and PTHi had returned to normal.
Discussion
Mediastinal ectopic parathyroid adenoma causes hyperparathyroidism in approximately 20% of cases. When the thymus descends into the chest in the 5th week of embryonic development, it is accompanied by the lower parathyroid glands, as they take up their normal position. Occasionally, however, they move to the chest, along with the thymus.1
Most patients with hyperparathyroidism are asymptomatic, but any symptoms that do appear are generally caused by hypercalcemia, and include nausea, vomiting, excessive thirst, constipation, polyuria, lethargy, and cardiac anomalies. Kidney stones, bone resorption and pathologic fractures may also occur. Severity of symptoms correlates with the size of the hyperfunctioning adenoma.2 When PHPT is suspected, preoperative localization of the tumor by imaging studies is essential for planning the surgical approach and allowing the surgeon to select the most appropriate technique. Ectopic parathyroid adenomas of less than 10mm in diameter are best detected with 99mTc-MIBI scintigraphy.3 Cervical ultrasound, CT and magnetic resonance imaging are used to determine the exact anatomical site of the mass.
Conventional approaches for a parathyroid adenoma located deep in the mediastinum are median sternotomy, manubriotomy or thoracotomy.4 Thanks to recent advances, however, video-assisted thoracoscopy is now more widely used for the resection of mediastinal ectopic parathyroid adenomas.
Large parathyroid adenomas are exceptional, and masses weighing more than 70g have occasionally been reported.5 In our case, the adenoma measured 5.5×4×4cm, and weighed 95g, making it one of the largest masses described in the literature, the largest being 145g.
Conflict of Interest
The authors state that they had no conflict of interests.
Please cite this article as: El Oueriachi F, Arsalane A, Kabiri EH. Adenoma paratiroideo ectópico poco frecuente. Arch Bronconeumol. 2015;51:301-302.