Full Text
To the Editor,
We read with great interest the article by Nascimento and Fernandes,1 who reported the case of a 63-year-old man admitted with dyspnea and fever. Computed tomography (CT) demonstrated a reversed halo sign (RHS). Angio-CT showed a thrombus on the right pulmonary artery, and the RHS was attributed to a pulmonary infarction (PI). The authors commented that although the RHS was initially considered pathognomonic of organizing pneumonia (OP), the differential diagnosis is broad, and is based on clinical and radiologic findings. The authors also reported that their definitive diagnosis was delayed, as it was reached only after exhaustive evaluation. However, early diagnosis is fundamental in some situations, and any delay in treatment can significantly increase mortality.
We would like to mention several recent studies highlighting some RHS imaging features which are very useful for differential diagnosis. A study comparing the morphologic characteristics of the RHS caused by tuberculosis with those caused by OP showed that the presence of nodular walls or nodules inside the RHS strongly favors a diagnosis of granulomatous disease, particularly active pulmonary tuberculosis (Fig. 1C and D).2 Histological analysis of such specimens has revealed the presence of granulomas. Another study aiming to identify CT findings that differentiate the RHS caused by invasive fungal infection (IFI) from that caused by OP demonstrated that in the context of immunosuppression, the presence of reticulation inside the RHS strongly suggests IFI (particularly pulmonary zygomycosis or angioinvasive pulmonary aspergillosis).3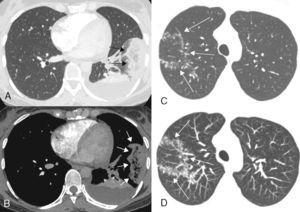 Fig. 1.
(A and B) A 32-year-old woman with acute pulmonary embolism and pulmonary infarction. Transverse contrast-enhanced CT images with lung (A) and mediastinal (B) window settings show an oval, subpleural reversed halo sign in the lateral segment of the left lower lobe of the lung (arrows). Note the reticulation inside the halo. A posterior atelectasis is also visible, outlined against a pleural effusion. The patient had clots involving several segmentary and non-segmentary pulmonary arteries (not shown). (C and D) A 39-year-old woman with active pulmonary tuberculosis. Axial CT image of the right upper lobe (C) shows a reversed halo sign with nodular walls. Axial reformatted image with maximum intensity projection (D) shows the nodules in greater detail (arrows).
(0.16MB).
The same finding (reticulation inside the RHS) may be seen in PI caused by thromboembolic disease (Fig. 1A and B). This similarity in appearance may be because the same pathophysiological mechanism underlies both diseases: PI is caused by thromboembolic occlusion and IFI infarcts occur due to intravascular thrombi containing fungal hyphae. Thus, reticulation inside the RHS should be interpreted while considering the overall clinical presentation and the patient's immune status.4 In an immunocompromised patient, RHS with reticulation is highly suggestive of IFI. However, in an immunocompetent patient, this finding strongly suggests PI.
In conclusion, the RHS is increasingly recognized as a valuable imaging finding in several lung diseases. Careful analysis of the morphological characteristics of the RHS may narrow the differential diagnosis. The presence of nodular walls or nodules inside the RHS is highly suggestive of granulomatous disease, especially tuberculosis. Reticulation in the center of the halo suggests diseases or conditions that cause PI, IFI, and pulmonary embolism. The recognition of this tomographic finding may have important clinical implications, and indicates the need for additional angio-CT examination.
Please cite this article as: Marchiori E, Arantes Pereira Azevedo CL, Zanetti G. Signo del halo invertido: criterios para reducir el diagnóstico diferencial. Arch Bronconeumol. 2016;52:565–566.