Full Text
We report the case of a 64-year-old man with a clinical picture of anorexia, asthenia and weight loss, who developed obstructive pneumonia after admission to our hospital. A computed tomography was performed, showing a pulmonary mass with a large central necrotic area in the right upper lobe, a 20mm hypodense cardiac lesion in the apex of the right ventricle consistent with metastasis, and an image suggestive of subpleural pulmonary infarction in the right lower lobe (Fig. 1A–C).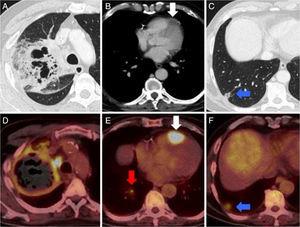 Fig. 1.
(A–C) Chest CT after administration of intravenous iodized contrast, lung (A and C) and mediastinum (B) windows. (D–F) PET/CT after administration of 18F-FDG. Mass in right upper lobe with large areas of necrosis and cavitation (A) with increased peripheral glucose metabolism (D). Lesion in the apex of the right ventricle (B and E, arrow) suggestive of cardiac metastasis. Image of peripheral base nodule containing air space in the right lower lobe (C, arrow) suggestive of pulmonary infarction. This lesion was metabolic on the PET/CT (F, arrow), and a hypermetabolic arterial embolism was observed in the feeding artery of that segment (E, gray arrow) consistent with tumor embolism.
(0.12MB).
Fiberoptic bronchoscopy was performed, and a specimen of the pulmonary mass was obtained and identified as non-small cell lung cancer. To complete the study, an 18F-FDG PET/CT was performed, revealing hypermetabolism of the pulmonary mass, the cardiac lesion, and the area of pulmonary infarction, and in a pulmonary artery of the right lower lobe (Fig. 1D–F). Uptake by the pulmonary infarction suggested that it was caused by tumor embolism.
Although cardiac metastases are more common than primary cardiac tumors, they still occur in only 1% of cancer patients, the most common etiology being lung adenocarcinoma.1 Pulmonary tumor embolism is a possible manifestation of cardiac metastasis, although 90% of these lesions are clinically silent.2
References
[1]
A.D. Borsaru, K.K. Lau, P. Solin.
Cardiac metastasis: a cause of recurrent pulmonary emboli.
Br J Radiol, 80 (2007), pp. e50-e53
[2]
V. Pazzano, M.L. Narducci, P. Santangeli, D. Pedicino, F. Glieca, C.A. Rota, et al.
Poorly differentiated thyroid carcinoma with cardiac metastasis and pulmonary embolism as first clinical presentation: case report and review of the literature.
J Endocrinol Invest, 34 (2011), pp. 164-165
Please cite this article as: Corominas D, Vollmer I, Paredes P. Embolismo tumoral pulmonar de metástasis cardíaca de carcinoma broncogénico. Arch Bronconeumol. 2017;53:396.