Full Text
To the Editor,
On rare occasions, fungal infections can resemble lung cancer.1 While surgery may be indicated in both cases, a differential diagnosis before surgical intervention is essential, due to the differences in the prognosis and therapeutic approach for these entities, and since other diseases cannot be ruled out by imaging procedures alone. We report the case of a patient with a solitary pulmonary nodule, suggestive of malignancy, which was determined to be aspergillosis and was treated with antifungal agents.
An otherwise healthy 63-year-old woman presented with a 3-month history of recurrent hemoptysis. Computed tomography (CT) revealed a spiculated nodule (27mm) in the left lower lung lobe (Fig. 1A) and small cylindrical bronchiectasis in the right middle lobe. Bronchoscopy was normal, cytology and bronchial lavage fluid cultures were negative, and no changes were seen on bronchial artery angiography. Transthoracic needle biopsy (TTNB) showed fungal structures that were identified as Aspergillus fumigatus (AF) (Fig. 1E). AF and HIV-1 and HIV-2 serologies were negative and serum lymphocyte populations and immunoglobulin levels were normal. Treatment was started with voriconazole (200mg, twice a day) but discontinued about 2 months later due to signs of hepatic toxicity. CT performed at that time (Fig. 1B) showed that the nodule had decreased in size (17cm). One month later, after resolution of the hepatic toxicity, antifungal treatment was reinitiated with itraconazole (200mg, twice a day). After 2 months, the nodule had increased in size (27mm) and had formed cavities (Fig. 1C). No additional information was obtained from repeated bronchoscopy with bronchoalveolar lavage and TTNB. Voriconazole was gradually reintroduced, and after 5 months only fibrotic changes were observed on CT (Fig. 1D). However, the patient's liver enzymes had increased again, so voriconazole treatment was discontinued. One year later, the patient remains asymptomatic and images are unchanged.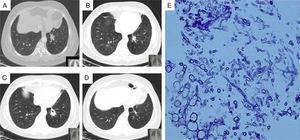 Fig. 1.
(A) Chest computed tomography (CT), showing a nodule in the left lower lobe; (B) chest CT 2 months after starting treatment with voriconazole, showing the nodule reduced in size; (C) chest CT during itraconazole treatment, showing nodule growth with cavities; (D) chest CT performed after 7 months of voriconazole treatment, showing residual fibrotic changes; (E) nodule biopsy, showing infiltration of mononuclear cells and fungal structures identified as Aspergillus fumigatus.
(0.48MB).
Chronic pulmonary aspergillosis (CPA) often affects patients with underlying chronic diseases or mild immunosuppression.2Aspergillus nodules are an unusual form of CPA, and sometimes do not show the radiological characteristics typical of invasive aspergillosis (halo and crescent signs). Diagnosis is established if the lung parenchyma shows invasion by the septate hyphae typical of Aspergillus and growth of these hyphae on culture. However, histological confirmation is not always possible, so diagnosis must be based on a combination of clinical, radiological, microbiological, and immunological findings.2,3 Azoles are the primary treatment option in CPA.4 Our patient showed disease progression during itraconazole treatment, which may have been a consequence of the temporary interruption of treatment or resistance to that compound. Wild-type resistance to azoles has been reported in Aspergillus strains in azole-naïve patients.5 Disease progression may also have been caused by sub-therapeutic serum levels of itraconazole during treatment, despite the administration of a higher than recommended dose. Surgical treatment is controversial, since it is associated with significant post-operative complications and disease recurrence, even at distant sites, so should be reserved for selected patients.2,3 In our case, surgery did not appear to be the best therapeutic approach, since the patient had bronchiectasis in the contralateral lung, which may have been associated with fungal colonization.6 Nevertheless, this option could have been considered if medical intervention had failed. Although the patient showed no evidence of immunosuppression, still undefined immune deficiencies cannot be ruled out.7 Consequently, while medical treatment appears to have clear advantages in cases in which it is well tolerated, the long-term outcome is unknown.
Please cite this article as: Dabó H, Marinho A, Gomes I. Aspergilosis pulmonar nodular, ¿todavía supone un desafío?. Arch Bronconeumol. 2015;51:603–604.