Full Text
Dear Editor:
Dermatomyositis (DM) is a well-known inflammatory myopathy usually associated with malignant diseases, including lung cancer. However, there are few reports on epidermal growth factor receptor (EGFR) mutation-positive non-small cell lung cancer (NSCLC) complicated by DM; EGFR mutations in these cases are uncommon.1,2 Osimertinib is a third-generation EGFR-tyrosine kinase inhibitor (TKI) generally used as first-line treatment for common EGFR mutation (i.e., exon 19 deletion/L858R)-positive NSCLC. Osimertinib therapy for DM-associated NSCLC has not been reported previously. Here, we report a case of EGFR exon 19 mutation-positive DM-associated lung adenocarcinoma treated with osimertinib. Informed consent was obtained from the patient, and the study was conducted in accordance with the Helsinki Declaration.
A 45-year-old Asian woman with a 26-pack-year smoking history presented with edema on her face and dorsal surface of her hands and feet, erythema over both eyelids (heliotrope rash, Fig. 1A), papules on the dorsal surface of the hands (Gottron's papules, Fig. 1B), and muscle weakness in both legs. She had a low-grade fever and both legs were tender to the touch. She had left cervical lymphadenopathy. Her serum creatine phosphokinase level was elevated (161U/L), and magnetic resonance imaging of her legs showed myositis and fasciitis. Although the serum myositis-specific autoantibody levels were normal, she was diagnosed with DM.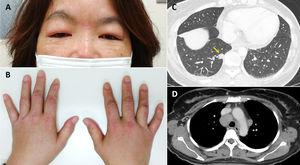 Fig. 1.
(A, B) Dermatological findings after the first examination of the patient. (A) Visible erythema over both eyelids (heliotrope rash) with facial edema. (B) Papules (Gottron's papules) and edema on the dorsal surface of the hands are visible. (C) Chest computed tomography (CT) scan showing primary lesion in the right lung, lower lobe (arrow). (D) Chest CT scan showing mediastinal lymphadenopathy.
(0.2MB).
Computed tomography and [18F]-fluorodeoxyglucose positron emission tomography showed a pulmonary nodule in the right lung; bilateral neck, supraclavicular, mediastinal, and hilar lymphadenopathy; and multiple hepatic nodules (Fig. 1C, D). Her serum carcinoembryonic antigen level was elevated (122.2ng/mL). A biopsy of a left cervical lymph node revealed an adenocarcinoma. Immunohistochemical staining of the tumor specimen was positive for CK7 and TTF-1 and negative for p63 and the estrogen receptor. These results suggested that the lung was the primary site of the adenocarcinoma. Additional analysis of the tumor specimen revealed an EGFR mutation (exon 19 deletion).
After further investigation, the patient was diagnosed with primary lung adenocarcinoma, cT1bN3M1c, stage IVB, and DM. Treatment with osimertinib and prednisolone 20mg per day was initiated. On follow-up three months later, the tumor lesions had shrunk markedly, and her serum carcinoembryonic antigen level was normal. The symptoms of DM also improved. She developed a mild rash as a side effect of osimertinib use but did not develop interstitial lung disease (ILD).
In this case report, we have presented two important clinical observations. First, common EGFR mutation-positive lung adenocarcinoma may occur in patients with DM. To our knowledge, this is the first English case report of common EGFR mutation-positive DM-associated NSCLC. The most common histopathological type of DM-associated lung cancer is small-cell lung cancer (44%); adenocarcinoma accounts for only 17% of the cases.1 EGFR mutations are commonly associated with adenocarcinoma, which may be the reason EGFR mutation-positive DM-associated NSCLC is extremely rare.
Second, osimertinib may be safely used for EGFR mutation-positive NSCLC complicated with DM. EGFR-TKIs have been reported to induce ILD at a higher rate than cytotoxic anticancer drugs.3 Moreover, in a large multicenter clinical trial, the incidence of ILD was reported to be higher in patients who received osimertinib than in those who received gefitinib,4 especially in the Japanese subset.5 As severe acute interstitial pneumonia often develops in DM patients, clinicians may hesitate to use osimertinib for DM-associated NSCLC. Our patient did not have DM-related ILD and did not develop osimertinib-induced ILD. Therefore, osimertinib may be used cautiously for patients with DM-associated NSCLC without DM-related ILD.
It is speculated that the mechanism underlying osimertinib-induced ILD is different from that underlying first or second generation EGFR-TKIs and may be associated with T cell activity.6 More data should be accumulated to evaluate the safety of osimertinib therapy for NSCLC complicated with autoimmune diseases, including DM.
Funding
This research did not receive any specific grant from funding agencies in the public, commercial, or not-for-profit sectors.
Conflict of interest
The authors declare no conflict of interest.
Acknowledgments
We would like to thank Editage (www.editage.jp) for English language editing.