Special issue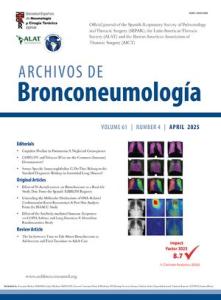 This article is part of special issue:
Vol. 57. Issue S2
COVID-19
More info
Full Text
Varón de 50 años con antecedentes de obesidad e hipertrigliceridemia, que ingresa por neumonía intersticial bilateral SARS-CoV-2. Se inicia antibioterapia empírica, esteroides, ciclosporina y heparina profiláctica, con requerimientos de oxigenoterapia progresivos hasta cánulas nasales de alto flujo.
El sexto día del ingreso presenta súbito deterioro respiratorio requiriendo inicio de ventilación mecánica no invasiva inicialmente con CPAP, sin mejoría, por lo que se cambia a BiPAP con parámetros I/EPAP: 18/10cmH2O.
En la radiografía de tórax se aprecia mínimo neumotórax. La TC muestra enfisema subcutáneo difuso, neumomediastino masivo, neumotórax apical y afectación en vidrio deslustrado en todos los segmentos pulmonares (fig. 1). El paciente ingresa en la UCI, se intuba y finalmente fallece por fracaso respiratorio y complicaciones infecciosas, sin posibilidad de drenaje mediastínico quirúrgico dada la situación crítica del paciente.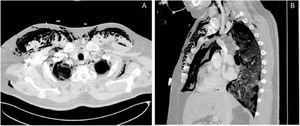 Figura 1.
A) Corte sagital con ventana de pulmón en la que se evidencia enfisema subcutáneo que diseca planos supraclaviculares y cervicales. B) Corte axial con ventana de pulmón en la que se muestra importante enfisema en el tejido celular subcutáneo, sobre todo en la región torácica anterior, disecando los planos de la práctica totalidad de los compartimentos mediastínicos, pericardio, así como en el espacio pleural. Se muestra también la afectación pulmonar en vidrio deslustrado con discreto patrón en mosaico secundaria a infección por COVID-19.
(0.08MB).
La mayoría de los casos de neumomediastino se producen sobre enfermedades de base como asma, EPOC o infecciones. Se han descrito pocos casos asociados a COVID-19 y otras neumonías virales1,2. Uno de los mecanismos por los que puede producirse es por incremento de la presión intratorácica sobre el daño alveolar difuso en afectación grave2. El neumomediastino se asocia más frecuentemente a la ventilación mecánica, lo que probablemente haya empeorado nuestro caso.
Bibliografía
[1]
L. Gorospe, A. Ayala-Carbonero, A. Ureña-Vacas, S. Fra Fernández, G. María Muñoz-Molina, P. Arrieta, et al.
Neumomediastino espontáneo en pacientes con COVID-19: una serie de cuatro casos.
Arch Bronconeumol, 56 (2020), pp. 754-756
[2]
M. Niehaus, A. Rusgo, K. Roth, J.L. Jacob.
Retropharyngeal air and pneumomediastinum: A rarecomplication of influenza and asthma in an adult.
Am J Emerg Med, 34 (2016), pp. 338-340