Full Text
Aspergillus is a well-characterized opportunistic fungus which often affects immunocompromised patients, particularly those with hematological cancers and severe neutropenia. The most common presentation in this patient group is angioinvasive aspergillosis. This is also the most severe form of the disease and is associated with hemorrhagic pulmonary nodules. Aspergillosis can also present in its bronchoinvasive form, manifesting as bronchiolitis, bronchopneumonia or tracheobronchitis.1
We report the case of a 52-year-old man with a diagnosis of acute myelomonocytic leukemia, receiving his second consolidation chemotherapy. He was admitted for fever and productive cough, after receiving inhaled colistin for one month for multidrug-resistant Pseudomonas aeruginosa respiratory tract colonization. We decided to suspend chemotherapy and started a diagnostic study. The chest X-ray showed no significant changes and the blood panel showed hemoglobin 10.8g/dl, leukocytes 7.7×103μ/l and 69% neutrophils. A repeat sputum culture was positive for multidrug-resistant Pseudomonas aeruginosa, so colistin treatment was maintained. In view of persistent symptoms, a chest computed tomography (CT) was performed, revealing parietal thickening of the carina and the left main bronchus, extending to the upper left lobe bronchus, and partially to the left lower lobe bronchus. A soft tissue mass was seen protruding into the lumen of the upper lobe bronchus (Fig. 1A–C). Pulmonary parenchyma was unchanged (Fig. 1).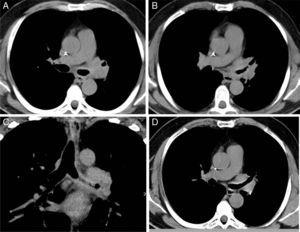 Fig. 1.
(A–C) CT from diagnostic study, showing considerable thickening of the left main bronchus, extending to the upper left lobe bronchus. A soft tissue mass is seen protruding into the lumen of the upper lobe bronchus. (D) Follow-up CT, 2 months after treatment, showing reduced thickening in the wall of the left main bronchus and left upper lobe bronchus, and resolution of the soft tissue mass that was invading the left upper lobe bronchus.
(0.28MB).
In an immunosuppressed patient, the first diagnosis to consider is fungal infection (aspergillosis, candidiasis or mucormycosis). Fiberoptic bronchoscopy was performed, which showed whitish membranes in the trachea and in both main bronchi. Biopsies were obtained and were found to contain fibrinous, inflammatory membranes and fragments of bronchial mucosa with mature squamous metaplasia and neovascularization, with no evidence of malignancy. Aspergillus fumigatus was isolated from the culture of the biopsy samples, and treatment began with voriconazole, with gradual resolution of fever and cough. The follow-up CT, 2 months after treatment, showed reduced tracheobronchial wall thickening (Fig. 1D).
Tracheobronchitis caused by Aspergillus presents in 3 forms: obstructive bronchial aspergillosis, consisting of mucus plugs due to overgrowth of hyphae with minor mucosa involvement; ulcerative tracheobronchitis; and pseudomembranous tracheobronchitis, which is associated with extensive inflammation and invasion of the tracheobronchial tree, in the presence of pseudomembranes. In view of CT and fiberoptic bronchoscopy findings, our case was classified as pseudomembranous tracheobronchitis.
Our case is of interest, since Aspergillus tracheobronchitis is an entity generally seen in patients with AIDS and lung transplants.2,3 It is very uncommon in patients with hematological cancers, who tend to develop other forms of aspergillosis due to their severe neutropenia.1,3
We put forward the hypothesis that the use of inhaled antibiotics alters the normal flora of the airways, thus increasing the possibility of developing Aspergillus infection.3
Funding
This article did not receive funding from any sources.
Conflict of interests
The authors declare that they have no conflict of interests.
References
[1]
T. Franquet, N. Müller, A. Giménez, P. Guembe, J. de la Torre, S. Bagué.
Spectrum of pulmonary aspergillosis: histologic, clinical, and radiologic findings.
RadioGraphics, 21 (2001), pp. 825-837
[2]
C. Lumbreras, J. Gavaldà.
Aspergilosis invasora: manifestaciones clínicas y tratamiento.
Rev Iberoam Micol, 20 (2003), pp. 79-89
[3]
G. Tunnicliffe, L. Schomberg, S. Walsh, B. Tinwell, T. Harrison, F. Chua.
Airway and parenchymal manifestations of pulmonary aspergillosis.
Respir Med, 107 (2013), pp. 1113-1123
Please cite this article as: Ospina Moreno C, Angulo Hervia E, Marquina Martínez D. Aspergilosis bronquial invasiva en paciente hematológico. Arch Bronconeumol. 2016;52:112–113.