Full Text
Intrathoracic rib (IR) is a very rare congenital anomaly resulting from incomplete fusion of neighboring sclerotomes.1 Three types have been defined in the literature. An extra rib originating from the vertebral body or proximal rib, defined as type 1A and 1B respectively. Type 2 is a bifid rib originating from a distal rib. A rib depressed in the thoracic cavity is type 3.2 Type 1A, an accessory rib originating from the vertebral body, generally descends vertically. The vertical course of Type 1A is associated with permanent lower lobe collapse and could be mistaken for a mediastinal or paravertebral mass.2 A middle aged man presented to our hospital with cough and chills. Frontal chest radiograph showed a vertically oriented right-sided linear density extending from the center of the chest inferomedially (Fig. 1A). Computed tomography study showed an intrathoracic rib originating from the inferiomedial part of the third rib, and 3D volume rendering technique showed the span of the extra rib in detail showing a type 1B IR (Fig. 1B). Although suggested in the literature as the best possible method to classify intrathoracic rib,1 we believe a computed tomography study is redundant in the digital radiography era, except for type 1A.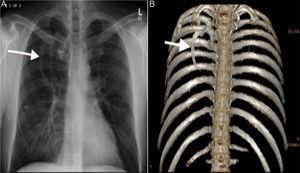 Fig. 1.
(A) Frontal chest radiograph: showing a right-sided vertically oriented linear density with the same opacity as a bone extending from the center of the chest inferomedially. (B) 3D volume rendering technique clearly shows the extra rib originating from the proximal rib inferomedially.
(0.15MB).
References
[1]
O. Onbas, F. Alper, M. Kantarci, Y. Celebi.
Intrathoracic rib: multidetector computed tomography demonstration.
Eur J Cardio-thorac Surg: Off J Eur Assoc Cardio-thorac Surg, 27 (2005), pp. 1113
Please cite this article as: Kuyumcu G, Shah P. Costilla intratorácica: ¿qué utilidad tiene la TC? Arch Bronconeumol. 2017;53:31.