Article information
Abstract
Full Text
Bibliography
Download PDF
Statistics
Tables (4)
Tabla 1. Características clínicas y funcionales de los varones con EPOC según la clasificación de la Global Initiative for Chronic Obstrutive Lung Disease (GOLD)
Tabla 2. Medidas en la tomografía computarizada de alta resolución, en varones con EPOC, según la clasificación de la la Global Initiative for Chronic Obstrutive Lung Disease (GOLD)

Tabla 3. Medidas tomadas en las tomografías computarizadas de alta resolución, realizadas en inspiración y espiración, según el índice BODE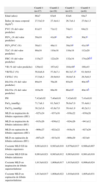 Tabla 4. Coeficientes de correlación entre la atenuación pulmonar en la tomografía computarizada de alta resolución y las características clínicas de los pacientes con EPOC
Resumen
Introducción
El objetivo del estudio ha sido comparar la atenuación pulmonar inspiratoria y espiratoria en varones con enfermedad pulmonar obstructiva crónica (EPOC), según la gravedad, así como valorar la relación entre la atenuación del parénquima y la función pulmonar.
Pacientes y métodos
Se seleccionó a 55 varones con EPOC moderada-muy grave y clínicamente estables. Se les realizaron gasometría arterial, espirometría, pletismografía, difusión de monóxido de carbono y prueba de la marcha. La gravedad de la EPOC se clasificó en función de la escala GOLD y del índice BODE. Se realizó una tomografía computarizada de tórax de alta resolución en inspiración y espiración, utilizando un programa informático específico para medir la atenuación de las diferentes áreas pulmonares.
Resultados
La atenuación de los lóbulos inferiores fue menor en pacientes con EPOC grave y muy grave que en casos con enfermedad moderada, tanto en inspiración como en espiración. En los varones con EPOC moderada y grave se detectaron diferencias en la atenuación media de los lóbulos superiores. No se hallaron diferencias en función de los cuartiles del índice BODE. Los parámetros de obstrucción de la vía aérea se relacionaron principalmente con la atenuación de los lóbulos inferiores en espiración, mientras que los parámetros de hiperinsuflación se correlacionaron con la atenuación en inspiración. Por último, la capacidad de difusión se relacionó de forma independiente con el valor de atenuación espiratoria/inspiratoria de los lóbulos inferiores y la atenuación de los lóbulos inferiores en inspiración.
Conclusiones
Se observan diferencias en la atenuación pulmonar entre los diferentes grados de gravedad de la EPOC establecidos según la clasificación GOLD.
Palabras clave:
EPOC
Tomografía computarizada
Pruebas de función respiratoria
Abstract
Background and objetives
We compare the inspiratory and expiratory regional lung densities between different levels of COPD severity (as assessed by the GOLD scale and by the BODE index), and to assess the relationship between regional lung densities and functional lung parameters.
Patients and methods
Fifty-five stable moderate-severe COPD men were selected. Functional evaluation included dyspnoea scale, blood gases, spirometry, plethysmography, diffusing capacity and six-minute walk test. Severity was classified according the GOLD scale and the BODE index. High resolution computed tomography (HRCT) scans of the entire lung at full inspiration and two sections at full expiration were obtained. Densitometry software was used to calculate the densities of the lung areas.
Results
Inspiratory and expiratory mean lung densities (MLD) of the lower lobes were significantly lower in very severe and severe COPD patients than in moderate patients. In contrast, we only found differences between the upper lobe MLD values of moderate and severe COPD patients. Inspiratory and expiratory HRCT densities were similar among all BODE quartiles, for both the upper and lower lobes. In a multiple regression analysis, airway obstruction parameters were mainly related to the expiratory MLD of the lower lobes, whereas lung hyperinflation parameters were predicted by the inspiratory MLD of the lower lobes. Lastly, diffusion capacity was independently related to the expiratory/inspiratory MLD of the lower lobes and to the inspiratory MLD of the upper lobes.
Conclusions
There are differences in lung attenuation measurements by HRCT between the varying levels of COPD severity as assessed by the GOLD scale.
Keywords:
COPD
Computed tomography
Pulmonary function test
Article
These are the options to access the full texts of the publication Archivos de Bronconeumología