Full Text
Varón de 49 años con síndrome de Liddle tipo 1 con hipertensión arterial e insuficiencia renal crónica, portador de trasplante renal, e hipoparatiroidismo secundario a paratiroidectomía. Ingresó por neumonía bilateral por COVID-19. En la tomografía computarizada (TC) de tórax de control al alta se observaron múltiples focos de calcificaciones pulmonares, coincidiendo con las zonas de las opacidades de la TC previa del ingreso, que correspondían a los focos de bronconeumonía (fig. 1).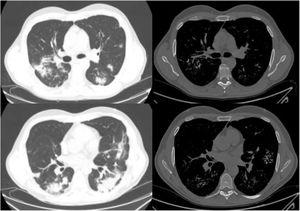 Figura 1.
Las imágenes de la izquierda corresponden con cortes en ventana de pulmón de la tomografía computarizada realizada en el ingreso, en la que se ven múltiples focos consolidativos parcheados en relación con neumonía por COVID-19. A la derecha, se observan cortes en ventana de hueso con calcificaciones pulmonares que coinciden con las opacidades previas. La variabilidad entre los cortes se debe a que la tomografía del ingreso fue de cortes de 2,5 mm y la de control de 1 mm.
(0.1MB).
Existen diversos factores que contribuyen al depósito de calcio en los órganos, como alteraciones del metabolismo del calcio-fósforo, actividad de la fosfatasa alcalina y pH básico1. Dentro de las calcificaciones pulmonares podemos distinguir entre las calcificaciones metastásicas o distróficas y la microlitiasis alveolar pulmonar. Las calcificaciones metastásicas se producen principalmente en pacientes con enfermedad renal crónica avanzada que requieren de hemodiálisis2, mientras que las calcificaciones distróficas se producen sobre un tejido previamente dañado como en el contexto de un proceso infeccioso1. Nuestro paciente presenta los antecedentes de enfermedad renal crónica, alteraciones del metabolismo del fósforo-calcio y tratamiento con hemodiálisis, como factores favorecedores de la generación de calcificaciones sobre un sustrato susceptible para ello, como es el tejido pulmonar dañado por la infección.
Financiación
Este trabajo no ha recibido ningún tipo de financiación.
Conflicto de intereses
Los autores declaran no tener ningún conflicto de intereses.
Bibliografía
[1]
E.D. Chan, D.V. Morales, C.H. Welsh, M.T. McDermott, M.I. Schwarz.
Calcium deposition with or without bone formation in the lung.
Am J Respir Crit Care Med., 165 (2002), pp. 1654
[2]
R. Kauntia, V. Bhargava, P. Gupta, D.S. Rana.
Pulmonary Calcifications: Is it an Entity in the New World Dialysis Patient?.
Indian J Nephrol., 29 (2019), pp. 128-131