Full Text
To the Editor,
Alveolar microlithiasis is a rare autosomal recessive congenital disease, characterized by the accumulation of countless calcospherites (microliths formed of phosphorus and calcium) in the alveolar space. It was first described in 1918 by Harbitz,1 and very few cases have been published in the literature to date. In a recent review, Castellana et al.2 studied a total of 1022 cases from 65 countries worldwide, mainly in Asia (56.3%) and Europe (27.8%), the most affected countries being Turkey, China, Japan, India, and Italy. In Spain, only 38 cases have been described in total, equivalent to 3.7%.2
We report the case of a 19-year-old man, referred to our center with suspected interstitial disease and a clinical picture of a 1-month history of dry cough, and chest X-ray showing a fine, bilateral micronodular pattern, predominantly in the lower fields (Fig. 1A). On examination, the patient was eupneic at rest, with basal oxygen saturation of 98%. The only findings of note were some fine crackles in both lung bases on lung auscultation. High-resolution computed tomography (HRCT) was requested, which reported findings suggestive of alveolar microlithiasis (Fig. 1B–D). Diagnostic confirmation was obtained with a transbronchial biopsy, the pathology report of which found numerous intra- and extra-alveolar calcifications, with formation of calcospherites and secondary fibrosis of the alveolar wall, all consistent with alveolar microlithiasis (Fig. 1E).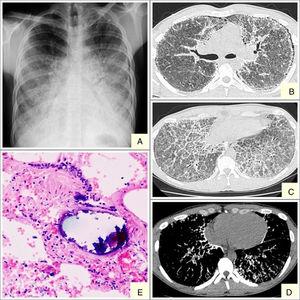 Fig. 1.
Alveolar microlithiasis. (A) Posteroanterior chest X-ray showing a fine bilateral, symmetric micronodular pattern, predominantly in the lower lobes, producing the typical sand-storm image. Bilateral subpleural linear vertical radiolucencies, more obvious in the left side, corresponding in image B with subpleural cysts. (B–D) Chest computed tomography showing extensive ground-glass opacities, with interlobular septal and intralobular reticular thickening, mainly in the lower lobes, showing a crazy-paving pattern. Image D clearly shows confluent microcalcifications distributed primarily in the peribronchovascular space in posterior segments of the lower and subpleural lobes. (E) Remains of intra-alveolar calcospherites with a typical onion-skin image. Secondary fibrosis of the alveolar wall. (Original magnification ×40; hematoxylin-eosin staining).
(0.65MB).
After 2 years of follow-up, the patient has been mainly asymptomatic, living a normal life with no treatment. He only reports occasional bloody sputum when performing intense physical exercise. Functional lung tests have been relatively stable, with a vital capacity of 79%, forced expiratory volume in 1 second 85%, Tiffeneau index 91%, and diffusing capacity of the lung 66%. His first-degree relatives (parents and sister) were recommended to have chest X-rays, which were normal.
The patient remains in follow-up in the respiratory medicine clinic of our center. The disassociation between his clinical and radiological features is very striking, as is his progress.
Alveolar microlithiasis is a rare disease caused by a mutation in the SLC34A2 gene that encodes the sodium-phosphate cotransporter type IIb, expressed in type II alveolar cells.3 These cells are responsible for the production of lung surfactant, which is fundamentally made up of phospholipids. The degradation product of lung surfactant is phosphate that must be removed from the alveolar spaces. SLC34A2 dysfunction reduces phosphate clearance and leads to the formation of calcospherites.2–5 This gene is also expressed in the mammary glands, small intestine, kidneys, pancreas, ovaries, liver, testes,6 placenta and prostate, so in some cases the lungs are not the only organs affected.2 Our patient underwent 2 testicular ultrasound examinations that were normal.
The disease affects both sexes, although it occurs predominantly in men, except in Spain, Italy and France, where there is a greater prevalence in women. It develops in all age groups, although it is usually diagnosed between the 2nd and 3rd decade of life. The youngest patients diagnosed were premature twins,7 while an 84-year-old woman was the oldest diagnosed case.2 Clinical–radiological disassociation is a clinical characteristic of this entity, and patients can have very few symptoms in combination with very marked radiological findings. Most patients are asymptomatic at diagnosis, with normal lung function or a very mild restrictive pattern, and changes in the lung parenchyma are found by chance. In the most severe cases, cyanosis and nail clubbing are the first visible signs. The most common symptom is dyspnea, followed by dry cough, chest pain, sporadic hemoptysis, and asthenia. The disease course in some patients is slow, but most progress to lung fibrosis with respiratory failure and cor pulmonale.8,9
The diagnostic procedure consists mainly of imaging tests (chest X-ray and HRCT) and a pathology study (bronchoalveolar lavage and transbronchial biopsy). Chest X-ray is characterized by the presence of multiple fine bilateral and symmetrical calcified micronodules, diffusely arranged, producing a typical sand-storm pattern. Vertical linear radiolucencies between the pulmonary parenchyma and the ribs are also characteristic of alveolar microlithiasis (Fig. 1A) due to subpleural cystic changes.4 A recent retrospective study by Francisco et al.10 assessed the frequency of tomography findings in patients with pulmonary alveolar microlithiasis. The main finding was the presence of diffuse ground glass opacities and intraparenchymal micronodules, observed in 100% of cases, followed by small subpleural nodules (92.3%), subpleural cysts (84.6%), subpleural linear calcifications (69.2%), mosaic crazy-paving pattern (69.2%), and nodular fissures (53.8%). These lesions were distributed primarily in the lower third of the lungs, with no predominance of distribution in the transverse and anteroposterior directions.10
Pathology studies show numerous intra-alveolar calcospherites that are periodic acid-Schiff (PAS) positive on histology, consisting of concentric calcareous layers around a central nucleus of amorphous or granular appearance. This appearance differs from metastatic or dystrophic calcifications in interstitial or vascular compartments. The lungs can weigh up to 5kg and the exterior surfaces are granular and irregular on gross examination, due to microliths protruding through the visceral pleura.8
Differential diagnosis includes diseases that occur with a miliary interstitial pattern on radiology, such as tuberculosis, sarcoidosis, pneumoconiosis, and amyloidosis, as well as alveolar proteinosis, due to its typical crazy-paving presentation.2
In terms of treatment, no therapies are currently available that will limit disease progression. A small number of studies have shown an improvement in lung function with etidronate disodium (diphosphonate).11 Corticosteroids and bronchoalveolar lavage have not been effective, and lung transplantation is the only effective option, especially when it is performed before the disease progresses to an advanced stage.8
Please cite this article as: Cuesta Lujano L, Gutiérrez Domingo Á, Fernández Ollero L. Microlitiasis alveolar y su peculiar disociación clínico-radiológica. Arch Bronconeumol. 2018;54:493–494.