Full Text
Varón de 76 años remitido desde urgencias por alteración radiológica, como antecedentes de interés trabajó en la mina de carbón durante 9 años, exfumador de 90 paquetes/año con diagnóstico de EPOC en tratamiento con umeclidinio/vilanterol y claudicación intermitente. Como síntomas refiere disnea de esfuerzos grado 2 mMRC sin cambios en el último año. A la exploración solo destaca hipofonesis en ambos campos pulmonares. En las pruebas de imagen (fig. 1) se objetiva ensanchamiento mediastínico con imágenes que impresionan de masas por lo que se solicita TC de tórax.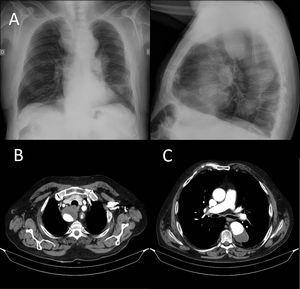 Figura 1.
A) Radiografía PA y lateral de tórax donde se observa ensanchamiento mediastínico con imágenes que impresionan de masas. B) TC de tórax con contraste intravenoso, que muestra una arteria subclavia derecha aberrante que se origina en el cayado aórtico distalmente a la subclavia izquierda discurriendo por detrás del esófago hacia el lado derecho, con voluminoso aneurisma parcialmente trombosado. C) Aneurisma de la aorta descendente parcialmente trombosado.
(0.09MB).
Los aneurismas de la arteria subclavia son entidades poco frecuentes, representando el 0,01% de los aneurismas periféricos1. Suelen ser secundarios a arteriosclerosis si bien, en ocasiones, se debe a traumatismos o a enfermedades degenerativas. Las manifestaciones clínicas son escasas, siendo más habitual el diagnóstico tras hallar incidentalmente en una radiografía de tórax lesiones que simulan una masa pulmonar, siendo el TC de tórax una técnica útil para su diagnóstico diferencial. En ocasiones se puede producir una rotura aneurismática presentando una urgencia vital siendo necesario un tratamiento quirúrgico2.
Financiación
Los autores declaran no recibir apoyo financiero para la investigación, autoría y/o publicación de este artículo.
Bibliografía
[1]
T.L. Dent, S.M. Lindenauer, C.B. Ernst, W.J. Fry.
Multiple Arteriosclerotic Arterial Aneurysms.
Arch Surg, 105 (1972), pp. 338-344
[2]
A. Verbert, J. Verbist, P. Peeters, H. Deferm, L. Haenen.
Spontaneous rupture of an aneurysm of the right subclavian artery as a first presentation of Ehlers Danlos syndrome in a 15-year old boy.
Acta Chir Belg, 113 (2013), pp. 367-372