Full Text
A Computed Tomography Pulmonary Angiography (CTPA) was performed for a previously healthy, 45-year-old male patient with chest pain and high clinical suspicion for pulmonary embolism (PE). CTPA revealed a right sided, well circumscribed, pleural based, soft tissue enhancing mass (Fig. 1a) and no evidence for PE.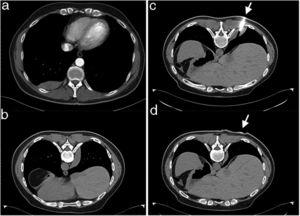 Fig. 1.
(a) CTPA revealing a right sided, well circumscribed, pleural based, soft tissue mass. (b) CT in prone position after CT guided FNB was completed, showing mass with lateral paravertebral displacement. (c) Patient in the prone position, the needle inserted during CT guided FNB (the arrow shows the insertion point). (d) The same level as (c), right after removal of the needle when CT guided FNB was completed (the arrow shows the point where the needle was previously inserted). Apart from lateral displacement shown in (b), craniocaudal displacement of the mass is evident too.
(0.04MB).
Patient underwent CT guided fine needle biopsy, in prone position, when insertion of the needle resulted in translocation of the mass in the pleural space (Fig. 1c: on needle insertion and Fig. 1b and d: right after removal of the needle), despite absence of complications during the procedure. Biopsy revealed a Solitary Fibrous Tumor (SFT) of the pleura and patient was referred for surgical treatment. Intraoperatively, a mass in the pleural space with a pedicle originating from the visceral pleura was resected.
SFTs are uncommon primary pleural neoplasms, originating from the subpleural mesenchymal cells.1 Before the development of immunohistochemical methods they were considered as 'benign mesotheliomas'.1 Less than 1000 have been reported in literature, mostly generated from the visceral pleura.1 SFTs are often pedunculated and thus – depending on tumor size – may appear agile in the pleural space.2 Recurrence of SFTs has been described after radical surgical treatment so follow-up after surgery is highly recommended.1,2
References
[1]
S. Vejvodova, V. Spidlen, P. Mukensnabl, G. Krakorova, J. Molacek, J. Vodicka.
Solitary fibrous tumor – less common neoplasms of the pleural cavity.
Ann Thorac Cardiovasc Surg, 23 (2017), pp. 12-18
[2]
M. Saynak, N.K. Veeramachaneni, J.L. Hubbs, D. Okumuş, L.B. Marks.
Solitary fibrous tumors of chest: another look with the oncologic perspective.
Balkan Med J, 34 (2017), pp. 188-199