Full Text
Post-pneumonectomy syndrome is an unusual complication of pneumonectomy that occurs as a result of excessive displacement of mediastinal structures into the vacant pleural space.1
We report the case of a 32-year-old man diagnosed with bronchial asthma who had a history of right pneumonectomy due to Swyer–James–MacLeod syndrome, performed when he was 7 years of age. Radiographically, this syndrome is characterized by unilateral hemithorax lucency as a result of postinfectious obliterative bronchiolitis, and is often accompanied by bronchiectasis. In the case of our patient, right pneumonectomy was performed because of recurrent episodes of pneumonia during childhood.
He came to our consultation with a 5-month history of dyspnea. Spirometry showed forced vital capacity (FVC) 3220cm3 (62%), forced expiratory volume in one second (FEV1) 1480cm3 (36%) and FEV1/FVC ratio 46%. A computerized axial tomography (CAT) of the chest revealed a hyperexpanded left hemithorax occupying the entire chest cavity as a result of the previous right pneumonectomy, and a right mediastinal shift that placed the heart in an abnormal position due to pulmonary hyperextension. No anomalies were observed in the supra-aortic vessels (Fig. 1). The study was completed with echocardiography and fiberoptic bronchoscopy to rule out cardiac involvement and/or bronchial compression. Doppler echocardiography showed cardiac structures distorted by the mediastinal shift, normal size heart chambers and valves, and normal blood flow. Fiberoptic bronchoscopy confirmed a pneumonectomy scar in good condition and no abnormalities in the main carina and left bronchial tree, thus ruling out bronchial compression secondary to mediastinal shift.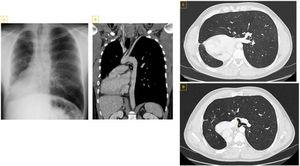 Fig. 1.
A) Chest X-ray showing the cardiac silhouette on the right, with hyperinflation and herniation of the left lung occupying both hemithoraces. B) Contrast-enhanced chest CT (coronal slice) showing vascular permeability and the left main bronchus (*) between the pulmonary artery and the aorta. C and D) Contrast-enhanced CT scan with parenchyma window (axial slices) showing counterclockwise rotation and right shift of mediastinal structures posterior to the lung, left pulmonary hyperinflation with right herniation, and left main bronchus (*) running between the left pulmonary artery and the descending aorta, with normal caliber and no evidence of extrinsic compression.
(0.19MB).
After 2 months of treatment with high-dose inhaled corticosteroids and long-acting beta-2 adrenergic receptors, the patient reported significant improvement in symptoms, and since no tracheobronchial compression or cardiac or vascular involvement was observed, close follow-up in conjunction with the Thoracic Surgery Unit began.
Post-pneumonectomy syndrome is a late complication of right pneumonectomy, and is caused by mediastinal shifting and counterclockwise rotation toward the vacant hemithorax. As a result, the distal trachea and left main bronchus are compressed between the pulmonary artery and the spinal column or aorta.2 This phenomenon has also been described after left pneumonectomy,2,3 and is more common in children.4
The most common symptoms are progressive dyspnea, vascular involvement and swallowing disorders. Imaging techniques help establish the diagnosis. Bronchoscopy is essential to evaluate the anatomy of the respiratory tract, as it can show the displacement of the trachea, the rotation of the carina, and indicate the level of obstruction of the respiratory tract.5
Treatment of post-pneumonectomy syndrome must be tailored to the characteristics of each patient. Surgery should be considered when the patient presents cardiac or vascular involvement or tracheobronchial compression secondary to mediastinal shift. In these cases, the surgical option is mediastinal repositioning and the use of an intrathoracic prosthesis to restore the normal anatomical architecture of the hemithorax and prevent recurrence of mediastinal shift and rotation. When surgery is not indicated, endobronchial placement of a self-expanding stent can be considered, although this option is only indicated as a complement to mediastinal repositioning, or in cases in which tracheobronchial compression is the only problem.1
Funding
This study did not receive any financial support.
Conflict of interests
None of the authors have any conflict of interest.