Full Text
The spontaneous appearance of pneumomediastinum or pneumoperitoneum is a very rare complication in patients with lung cancer,1 and coexistence of these entities has not been described until now.
We report the case of a 79-year-old woman diagnosed 1 month before the current episode with stage IVB cancer of the left lung (cT4N3M1c) with bilateral pulmonary carcinomatous lymphangitis, multiple brain lesions, and T12 metastatic bone disease. The diagnosis had been made by endobronchial ultrasound, with aspiration of the lung mass in the left upper lobe at 11L, with no subsequent complications. Histology was consistent with non-small cell carcinoma with EGFR mutation. The patient was awaiting chemotherapy and radiation therapy. She was admitted for general deterioration associated with urinary sepsis, with no dyspnea, chest pain, respiratory symptoms, or recent trauma. Physical examination and vital signs were normal. Labs showed leukocytosis (18,740/μL) with elevated acute phase reactants (CRP 365mg/L, PCT 9.63ng/mL) and pathological urine with nitrites and abundant bacteriuria. The chest X-ray was unchanged from the previous test. Treatment started with antibiotics and fluid therapy with good progress, but on the third day of admission, she developed subcutaneous thoracic-abdominal and cervical crepitations consistent with subcutaneous emphysema, which was confirmed on a new X-ray (Fig. 1A). A thoracic-abdominal computed tomography scan was requested, which showed severe subcutaneous emphysema from the cervical to the pelvic region, combining extensive pneumomediastinum and, to a lesser extent, pneumopericardium (Fig. 1B), as well as significant pneumoperitoneum and retropneumoperitoneum (Fig. 1C). A fistula was also seen in the posterior wall of the right main bronchus, but it was not possible to confirm that it communicated with another organ (trachea or esophagus) or only with the mediastinum. Given the underlying situation of the patient, fiberoptic bronchoscopy was not performed to confirm the presence of the fistula, although the previous endobronchial ultrasound had not shown any lesions in the right bronchus, nor was a biopsy performed in this region. In the following 72h, despite laboratory improvement, the patient presented progressive respiratory deterioration and finally died.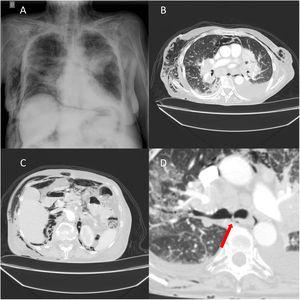 Fig. 1.
(A) Plain chest X-ray with left parahilar mass and interstitial pattern consistent with bilateral lymphangitis. Significant subcutaneous emphysema can be observed at the cervical and costal level. Pneumomediastinum is also identified around the cardiac silhouette and pneumoperitoneum in the right hemidiaphragm. (B) Computed tomography of the chest (lung window) showing pneumomediastinum, pneumopericardium, and subcutaneous emphysema, in addition to the previously identified tumors and left pleural effusion. (C) Computed tomography of the abdomen (lung window) showing pneumoperitoneum, retropneumoperitoneum, and subcutaneous emphysema. (D) Computed tomography of the chest (lung window) showing a fistula in the posterior wall of the right main bronchus (arrow).
(0.16MB).
Spontaneous pneumomediastinum is usually a benign pathology associated with young people, and is often accompanied by precipitating factors such as asthma, cough, vomiting, or even drug abuse.2 Its appearance in patients with lung cancer is very rare; in these cases, the accumulation of air in the mediastinum originates from a leak from the tracheobronchial tree or from a digestive tract fistula, usually due to tissue destruction caused by the neoplasm itself.3 If the accumulated pressure is sufficiently high, air can migrate by dissection to the subcutaneous tissue and even to the peritoneum.
Spontaneous pneumoperitoneum is the appearance of air in the peritoneal cavity with no evidence of visceral perforation. It typically presents without signs of peritoneal irritation, and is very rare in patients with lung cancer.4 Causes of secondary pneumoperitoneum to consider in these patients include perforation after bronchial biopsy, the appearance of intestinal pneumatosis due to ischemia or chemotherapy or immunotherapy, and even intestinal perforation due to intra-abdominal metastases; none of these precipitating factors was present in our case.
The treatment of both spontaneous pneumoperitoneum and pneumomediastinum is usually conservative: analgesia, oxygen therapy, and antibiotic therapy in the event of mediastinitis, although in some cases improvement has been described with decompression measures using drainage tubes, especially when there is evidence of tension pneumomediastinum.5 With regard to fistulas, endoscopic application of a sealant or fibrin glue, coil embolization, or metal or silicone prostheses may be attempted, depending on the patient's status. Prognosis is generally unfavorable due to complications (mediastinitis, tension pneumomediastinum, respiratory failure) and because it usually develops at a very advanced stage of the cancer.
Participation
All authors confirm that they have participated actively in the preparation of this article.
Funding
None.
Conflict of interests
All participating authors state that they have no conflict of interests.