Full Text
Presentamos el caso de un paciente de 68 años con antecedentes de leucemia mieloblástica aguda e infarto agudo de miocardio que presentaba una masa en el lóbulo medio (fig. 1A) hipercaptante en la PET y una adenopatía interlobar sugestiva de malignidad (fig. 1B). Tras descartar afectación N2, se planificó una lobectomía media por abordaje robótico que se realizó 2 meses después del TC de diagnóstico. Durante el procedimiento, se evidenció la presencia, no sospechada preoperatoriamente, de un trombo tumoral en la vena del lóbulo medio a 10-12mm de la aurícula (fig. 1C), por lo que se realizó clampaje proximal extrapericárdico y sutura manual de la vena (fig. 1D) tras conversión a toracotomía. El diagnóstico anatomopatológico fue carcinoma pleomórfico (pT3N1M0).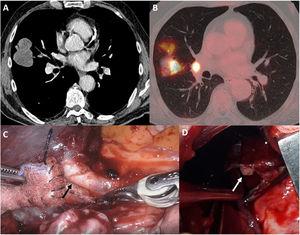 Figura 1.
Imagen de TC torácica que muestra una masa hipodensa de bordes lobulados de 6,1×5,8×4,4cm (transverso, anteroposterior, craneocaudal) situada predominantemente en la periferia del lóbulo medio en contacto con la pleura costal, la cisura menor y la cisura mayor. Presenta extensión central condicionando obstrucción con componente endobronquial del bronquio segmentario lateral del lóbulo medio y de bronquios subsegmentarios y adenopatía interlobar medial a la masa de 1,2cm (A). Imagen de PET/TC que muestra una masa hipermetabólica en lóbulo medio con SUVmax 19,51 y captación focal de la FDG en región hiliar derecha, con SUVmax 13,36, en relación con adenopatía (B). Imagen intraoperatoria durante el abordaje robótico en la que se objetiva la presencia de extensión intravascular del tumor a nivel vena de lóbulo medio (flecha) (C). Imagen intraoperatoria durante el abordaje abierto (toracotomía sin sección muscular) en la que se objetiva la presencia de tumor en margen distal (flecha) y clamp en margen proximal de la vena del lóbulo medio tras sección del vaso (D).
(0.14MB).
En pacientes con cáncer de pulmón se ha descrito evidencia histopatológica de extensión intravascular del tumor en venas pulmonares en el 0,7% de los casos1. Su presencia empeora significativamente el pronóstico y tiene un importante impacto en el manejo terapéutico2.
Consideramos que la incorporación de las últimas tecnologías de imagen (visión 3D y alta resolución) a los equipos quirúrgicos endoscópicos (VATS y robótica) aporta una mayor calidad y precisión en la apreciación de detalles que favorece la identificación de este tipo de lesiones.
Financiación
Ninguna.
Conflicto de intereses
Los autores declaran no tener ningún conflicto de intereses relacionado directa o indirectamente con los contenidos del manuscrito.
Bibliografía
[1]
M. Riquet, B. Grand, A. Arame, C.F. Pricopi, C. Foucault, A. Dujon, et al.
Lung cancer invading the pericardium: quantum of lymph nodes.
Ann Thorac Surg., 90 (2010), pp. 1773-1777
[2]
K.B. Quencer, T. Friedman, R. Sheth, R. Oklu.
Tumor thrombus: incidence, imaging, prognosis and treatment.
Cardiovasc Diagn Ther., 7 (2017 Dec), pp. S165-S177