Full Text
83-Year-old male ex-smoker with history of COPD presented with worsening shortness of breath and wheezing ongoing for one year. Inhaler adjustments failed to provide any significant relief. A repeat pulmonary function test demonstrated airflow obstruction and new flattening of the expiratory limb (Fig. 1). CT chest demonstrated a 9×8×8mm soft tissue polypoid lesion in the membranous portion of the proximal trachea (Fig. 2A and B). Subsequent bronchoscopy using LMA showed a polyp in the proximal trachea (Fig. 2C). The tracheal polyp was removed via electrocautery snare, argon plasma coagulation, and cryotherapy. Pathology revealed capillary hemangioma covered by squamous epithelium along with stromal edema and scattered inflammatory cells consistent with a benign lobular capillary hemangioma (BLCH). BLCH formerly known as pyogenic granuloma is a rare benign vascular tumor of the skin and upper respiratory tract. Causes are unclear, some associations have been described with history of local trauma, oncogenes, pregnancy, and clonal gene deletions.1 The clinical presentation varies and may include wheezing, chronic cough, dyspnea, and hemoptysis. Although the data is limited given the rare nature of the disease, the described cases in the literature seem to have a good prognosis following bronchoscopic resection, although long-term studies to report recurrence are lacking2 (Fig. 1).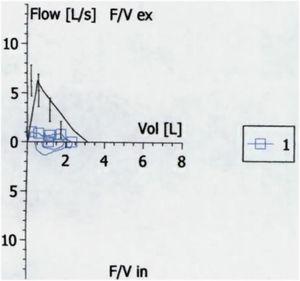 Fig. 2.
(A) Sagittal and (B) axial images showing a polypoid lesion in the proximal trachea attached to the posterior membrane. (C) Bronchoscopic image demonstrated the aforementioned lesion partially occluding the airway. (D) Pathology from the lesion demonstrating capillary hemangioma covered by squamous epithelium along with stromal edema and scattered inflammatory cells.
(0.08MB).
Funding
None.
Author Contributions
Bhandari BS, Cherian S, and Sagar, AS, are responsible for the conception and design, acquisition of radiological data, drafting the article, critical revision of intellectual content and final approval of the version to be published.
Conflicts of Interest
The authors declare that no conflicts of interest exist.
References
[1]
H. Jafarzadeh, M. Sanatkhani, N. Mohtasham.
Oral pyogenic granuloma: a review.
J Oral Sci, 48 (2006), pp. 167-175
[2]
M.N. Acharya, K. Kotidis, M. Loubani.
Tracheal lobular capillary haemangioma: a rare benign cause of recurrent haemoptysis.
Case Rep Surg, 2016 (2016), pp. 6290424