Full Text
Dear Editor:
Angiolymphoid hyperplasia with eosinophilia (ALHE), also named epithelioid hemangioma, is a benign vascular tumor with unknown pathogenesis, characterized by the presence of well formed, but often immature vessels, and by the proliferation of epithelioid endothelial cells with prominent lymphocytic infiltration.1 The majority of the ALHE lesions affects the subcutaneous tissue of the head and neck.2 Reported cases of the pulmonary involvement are extremely rare.3,4
We report the case study of a 27-year-old Caucasian woman, non-smoker. The patient performed an abdominal computed tomography (TC) for a history of abdominal pain that showed bilateral nodules in the pulmonary bases, reason why the patient has been referred to our hospital for study. The patient reported a history of cough and asthenia with 1-year evolution, which have devalued over time. Physical examination, including skin observation, was unremarkable and the laboratory investigation was normal. The chest CT showed the presence of multiple bilateral pulmonary nodules (ranging between 10 and 14mm), some of which in ground glass (Fig. 1A and B). The fiberoptic bronchoscopy was normal and the bronchoalveolar lavage showed a normal cell count. Histopathological examination of TC-guided transthoracic core needle biopsies of one of the left lung nodule have revealed proliferation of numerous small-caliber vessels with hyperplastic endothelial lining, lymphoid follicles and prominent eosinophilic background (Fig. 1C). Immunohistochemical study showed tumor cell positivity for CD34 (endothelial marker) (Fig. 1D). Overall, these findings indicated the diagnosis of angiolymphoid hyperplasia with eosinophilia. Given the rarity of the pulmonary involvement by ALHE, together with the presence of multiple pulmonary nodules (more common in epithelioid hemangioendothelioma), the possibility of surgical biopsy was discussed with Thoracic Surgery. Nevertheless, surgical option was discarded because of the low density of the nodules as well due to location constrains. Instead, we repeated TC-guided transthoracic core needle biopsies in one right lung nodule. The histopathological and immunohistochemical studies confirmed the diagnosis of ALHE. Given its benign nature, we have decided to maintain only clinical and imaging follow-up, and the monitoring resulted in no changes during 2 years.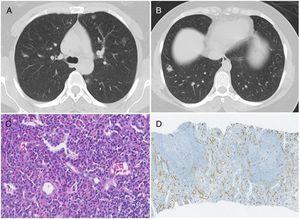 Fig. 1.
(A) Chest CT showing bilateral pulmonary nodules, predominantly in ground-glass. (B) Chest CT showing a nodule at the base of the right lung, which was biopsied. (C) Photomicrograph illustrating lymphocytes and prominent eosinophilic background; Stain: hematoxylin and eosin (HE); magnification: 40×. (D) Immunohistochemistry photomicrograph showing numerous small-caliber vessels positive for CD34; magnification: 10×.
(0.45MB).
ALHE is an unusual lesion that mainly occurs between the third and fifth decades of life and appears to have a predilection for women.1 It mostly affect the subcutaneous tissue, however, cases of the involvement of other organs, like lung, are extremely rare.3,4 In 2005, Moran and Suster described the first two cases of ALHE located in the lung of a 60-years-old man with a history of cough and dyspnea and a woman with 27-years-old with clinical history of asthma.3 The two cases only presented a single pulmonary lesion, with 20 and 30mm, respectively, very different from the TC findings of our patient, Moreover, Dulohery et al. have published a study about the lung involvement in hypereosinophilic syndromes that included the case of a 32-years-old woman with a history of cough and rash presented, similar to our case, numerous bilateral nodules, and the diagnosis of ALHE was achieved after a surgical biopsy.4 In this case-study, the patient was treated initially with prednisone followed by interferon-α2b, with symptomatic and radiologic improvement, however details like dose or time of treatment were undisclosed. Contrary to this case, our patient did not have peripheral eosinophilia. To the best of our knowledge, this are the only three published cases describing the pulmonary involvement by ALHE. Overall, all the published cases presented very different clinical, laboratory and radiologic findings, highlighting that much remain unknown regarding this entity.
Pathological features is a key tool for the diagnosis of ALHE. Histopathology features include prominent proliferation of small, capillary-sized vessels with immature appearance, lined by plump, epithelioid endothelial cells. An inflammatory background rich in eosinophils and lymphocytes is present in the overwhelming majority of cases and, frequently, as in our case, a prominent lymphoid reaction with follicle formation is present. Immunohistochemical studies for CD31 and VIIIrAg stained the epithelioid endothelial cells. Immunoreactivity for CD34 is also present, though often to a lesser degree.1 ALHE must be distinguish from epithelioid hemangioendothelioma. The latter, is a rare vascular tumor of intermediate behavior, but potentially malignant, also with predilection for middle-aged women and similarly to ALHE, it is radiologically characterized by the presence of multiple, bilateral, perivascular nodules with well-defined or blurred margins.5 Histologically, epithelioid hemangioendothelioma is characterized by the presence of vacuolated endothelial cells growing singly or in linear streaks or cords, separated by a myxohyaline stroma, and lack of lymphoid or eosinophilic inflammatory infiltration.2
Due to the scarcity of published cases, no ideal treatment is defined. We decided to keep only clinical and imaging follow-up.
Herein, we have described one rare case study of pulmonary involvement by ALHE, a diagnosis that must be added to the large list of differential diagnoses of multiple lung nodules, also extending the spectrum of vascular and lymphoid lesions that can occur within the lung.